December 24, 2019
Masan Group proudly receives Prime Minister's Certificate of Merit
On December 23rd 2019, in representation for businesses in agriculture industry, Chairman of Masan Group - Dr. Nguyen Dang Quang delivered a speech at the 2020 Implementation Plan of Agriculture and Rural Development Conference. Masan Group was also honored to receive Prime Minister's Certificate of Merit for outstanding achievements in promoting the development of Vietnam's agriculture. The conference received participantion from Prime Minister Nguyen Xuan Phuc and Political Bureau members.
Speaking at the conference, Dr. Nguyen Dang Quang expressed the pride of a Vietnamese enterprise with more than 20 years of establishment and development, constantly striving to pursue the mission of serving consumers by providing outstanding products and services made by the Vietnamese people. Dr. Quang also proposed certain recommendations of attracting business policy, in order to improve business environment in general.
Besides, Dr. Quang also petitioned the Prime Minister to assist in speeding up the permission to set up professional associations. These associations will contribute to gather resources from society, enterprises and the state's management agencies. The associations will be a voice in protecting law compliance, the environment, promote sustainable development and improve the value of agricultural products in Vietnam.
In production and business activities, one of the key areas of the Masan Group is investing in high-tech agricultural platforms, the most optimal trend that the agricultural powers in the world are applying. In particular, MEATDeli chilled meat is the typical product demonstrating the pioneering application of world advanced technology in agricultural production. MEADeli the end product of 3F platform (Feed – Farm – Food), which provides nearly 100 million Vietnamese people with branded, fresh, safe and affordable meat.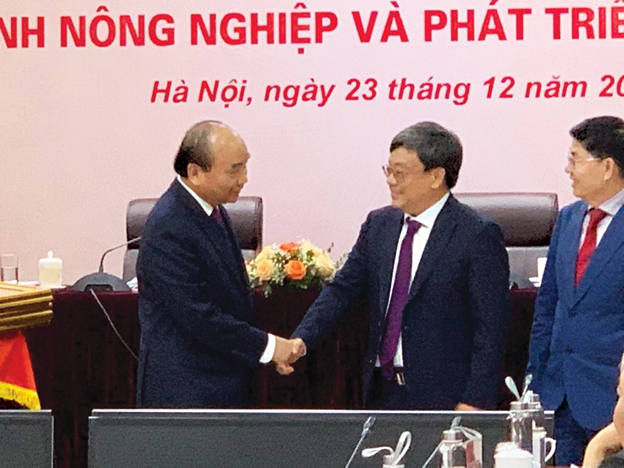 With the recent merger of VinCommerce and VinEco into Masan Group, the conglomerate has acquired a system of 14 high-tech farms to develop Vietnamese branded agricultural products and be ready to join global supply chain. Also through this merger, Masan Group created the largest retail platform in Vietnam, retaining the Vietnamese market for local businesses and helping Vietnamese consumers to benefit from modern distribution channels.
In recognition and appreciation of businesses with outstanding achievements in the agricultural sector, the Prime Minister awarded the Certificate of Merit to Masan Group for its outstanding achievements in promoting the development of the sector in Vietnam. At the same time, the Prime Minister emphasized and appreciated Masan Group's mission to uplift the material and spiritual lives of Vietnamese consumers.
The honor is a meaningful encouragement for Masaners. More than 40.000 members of Masan family are committed to sustainable development, contributing to improving the lives of farmers, creating jobs, social security, along with the strong development of our business. "As a Masaner, we are ready to embrace challenge, reach out to the world and aspire to become Vietnam's Pride." said Dr. Nguyen Dang Quang.